Customized Service for your Wagner Swimming Pool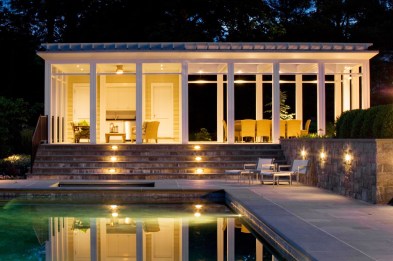 Since the birth of the private swimming pool, Wagner has made it possible for families to enjoy the finest pools ever built.
Does it take the oldest pool builder in the nation to give you the very best? We think so. Long after Wagner has finished building your pool, we will still be there with an old-fashioned guarantee and a unique hands-on service program.
Moreover, with a fleet of maintenance vehicles on call 7 days a week, 24 hours a day - we're available around the clock, just in case you need us.
With Wagner, you're not just getting a pool – you're getting a company you can depend on.
At Wagner Pools, we offer services to make sure your swimming pool and spa look and run their best. Services include:
---
We provide a pool cleaning & chemical service so you can have a truly "Maintenance–Free" pool. Each cleaning visit includes:
Vacuum the pool
Brush the walls & tiles.
Empty the skimmer baskets
Clean or backwash the filter
Empty the pump & filter bask
Skim away any surface debris
Test and adjust the chemicals
Leave a service ticket, reporting what we've done
---
Repair Services
Our repair technicians are factory trained on all the major brands of pool equipment, including Jandy & Polaris. We also offer the following repair services:
Pool Cleaners Installation, Repair or Replacement
Filter Service, Repair and Replacement
Pump Service, Repair or Replacement
Heater Repair and Replacement
---
Pool Opening and Closing Services
Let the professionals at Wagner take the pressure off you. You can have your pool opened or closed by Wagner's expert technicians to ensure a safe and healthy environment for your family.
Pool Opening Services
When the warmer weather in Maine finally rolls around, you may be getting excited about swimming season, but other outdoor chores may be holding you back to tackle the pool opening process. Do not stress! The experienced staff at The Pool Shed can help! We have been providing residents and businesses across Maine with pool opening and maintenance services.
Allow us to help. We begin by safely removing your winter cover, installing all of your pool equipment, and starting the filtration system. Pool is open for the season; we offer maintenance programs depending on your needs.
Pool Closing Services
At the end of the season, closing up your pool can seem like a daunting task. Most people dread the time-consuming process. Our team can help you close your pool. Did you know that if you make mistakes along the way, you could risk causing major issues in the future? We can help take this pressure away. Do not start next season by realizing you need major repair work. Have the experts at The Pool Shed close your pool and rest assured that your pool would be ready to use when the sun decides to shine again.
While closing your pool, we will carefully go through each step of the process. We ensure the pool chemicals are properly balanced, the lines are blown out, and the filtration system is properly winterized. We will also verify that your winter cover is properly secured and able to stand up to the harsh Maine weather.
If you're having trouble with any aspect of your pool, just contact us at (203) 655-0766 or fill our form below: